BlogFest 2010 is now closed!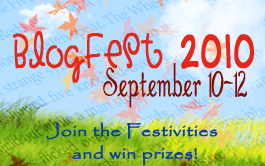 One massive Giveaway/Blog Hop. So make sure you check out my other giveaway on JaMonkey
I'm giving away some fun products!
Bosom Buddy enhancement cream will stimulate more than the taste buds! Apply this smooth, silky, flavored enhancement cream to nipples and lips for a tingling sensation, heightened arousal, and more supple skin. Bosom Buddy is great for both men and women!
Body Dew Moisturizer keeps even the driest skin happily hydrated and looking 10 years younger! This gentle moisturizer is infused with beneficial carnation oil; a spritz after each shower will keep your skin feeling softer than ever. Spray your legs with Body Dew Moisturizer before going out for extra sexy shine. Makes tattoos look great, too! Infused with Pheromones!
Body Dew is one of my all time favorite products! Makes the best Hot Oil bath, saves my skin all year round by looking in the moisture. I've had women tell me that is helps with eczema!
Visit My Store to see my whole catalog. Every Online order placed during BlogFest will receive a special gift from me ($10 value)
Here's how to enter.
Please list your email in each comment so I can easily alert you if you win.
Mandatory Entry - Follow my blog via Google Friend Connect
If you don't have a Google Account you can subscribe via email here
Other ways to enter: (please comment for each think you do)
Become a Facebook Fan
Share this post on Facebook
Share
Follow me on Twitter
@GirlsAfterDark
Tweet This
Check out @GirlsAfterDark awesome massage #Giveaway during #BlogFest
Tweet
On to the next great giveaway over at JaMonkey!
Don't forget about the massive BlogFest 2010 grand giveaway! Head on over to http://ajourneyofbooks.halfzero.net and click on the Tracking Site link to head to our own exclusive tracking site. Once there you can register with a valid email address (to be used solely for the purpose of contacting the winner). This site will allow you to track your progress through BlogFest 2010! You can log on from anywhere at any time and continue where you left off. The best part is that every blog that you visit and mark off through this tracking site will give you one entry into the massive giveaway! We have a great collection of books, goodies and other swag that is looking for a new home!